Proud Peasant - Cosmic Sound
by Jeff Penczak

Release Date:2016-04-06

Label: Fruits De Mer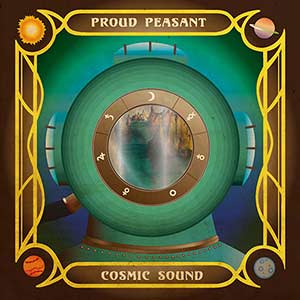 Manfred Mann's post-hit period yielded numerous attempts at a new name to accompany numerous more attempts at finding a sound that suited the times. Hence, Manfred Mann Chapter Three (presumably chapters one and two were the Paul Jones and Mike D'Abo-led incarnations), Manfred Mann, Manfred Mann's Earth Band, and simply Earth Band. Prog, hard rock, jazz, and various other styles wafted around these different permutations until they opted to tackle the de rigueur concept album approach on 1973's Solar Fire.
Certainly not where I'd be looking if I were searching through my record collection to find something to offer to the wonderful 'covers label', Fruits De Mer, known for their vinyl-only releases focusing primarily on current artists tackling cherished nuggets from the golden age of psych and roll, with the occasional proggy jazzer tossed in to keep the chinstrokers happy and attentive.
So what to my surprise do I uncover here but a bunch of lads from Austin, Texas whipping out a beaucoup of keyboard-driven German prog nastiness entitled 'Daybreak', originally perpetrated by krautrockers Eloy on their '73 Inside album. A couple of guitarists fisticuff their way through the strident, charging rhythms like the running of the Pamplona bulls through a china shop until their dueling keyboardists (organ and synth I think) wrestle the melody and run with it like Keith Emerson trying to uncover another way of playing 'America' without it sounding like the other hundred versions you heard already.
Flip it over and the tide and mood changes for the mysterious 'Saturn, Lord of The Ring/Mercury, The Winged Avenger' from the aforementioned Manfred whatsisname this week. Despite the headscratching title, it's a nice little floater, featuring stellar guitar soloing, melodic little motifs that could fit onto the soundtrack to your next swinging bachelor pad party album. A little Bacharach, maybe some Electric Banana-era Pretty Things, with a soupcon of groovy soundtrack music a la Giorgio Tuma and you're ready to kick back and let your head roam the stars like a SETI light beam travelling across the Milky Way.
I don't understand a lick of it, but if you roll it in a brownie and smoke it, it doesn't taste all that bad.