Juffage - Last Few True
by Andy Brown

Release Date:2014-04-25

Label: Self released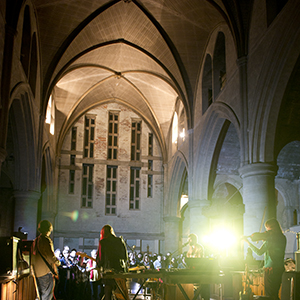 A year ago, I attended a particularly memorable Juffage gig in Leeds. Held at the Left Bank (a huge church-come-venue in Hyde Park), and with the performance being advertised as a 'Sonic Cauldron', I suspected it would be a pretty special event. I wasn't disappointed.
Chicago-born Leeds-resident Jeff T Smith (Juffage) had outdone himself; the venues cavernous acoustics were harnessed and the whole place was enveloped in swathes of sound. Juffage already had a reputation for placing portable stereos around a venue to immerse the audience in the performance, but this took things that one step further. The performance filtered Smith's clear love of experimenting through some of his most accessible, pop-centred songs to date.
That night Juffage collaborated in his cauldron with members of Vessels, Sky Larkin and Invisible Cities. Sky Larkin's Katie Harkin put in a particularly spellbinding vocal performance, which is central to the glorious recording of 'Last Few True' getting a release here.
Usually Juffage is something of an Andrew Bird, one-man-band kind of guy but the performance that night was most certainly a group effort. Each member of the makeshift band played a key part in the cauldron's success.
Akin to one those Low tracks where Mimi Parker takes the lead, 'Last Few True' is stunning enough to stop you in your tracks. The recording here brings Harkin's vocals to the fore, while the track exudes an almost hymn-like serenity. Smith is joined on guitar duties by Vessels' Tom Evans, the beautifully delicate melody rolling along with a kind of stately grace. There's a hopeful melancholy at the heart of the track and the magic of the night's performance is captured well.
If you were there then this single represents something of a wonderful souvenir. If you weren't there, than you'll just have to be content to play this on repeat and wish you were. It's pretty stunning stuff.