The Wind-Up Birds - Meet Me at the Depot/Popman
by Andy Brown

Release Date:2011-06-27

Label: Sturdy Records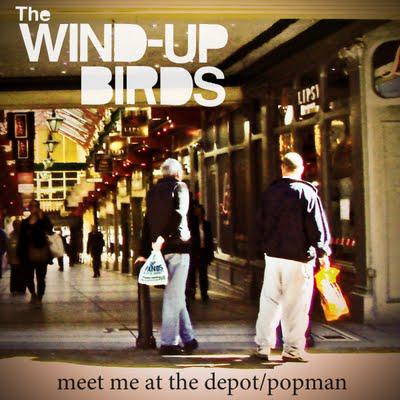 The latest single by Leeds' indie-punks The Wind-Up Birds continues their uninterrupted run of excellent releases. 'Meet Me at the Depot/Popman' follows on from the ace 'Tyre Fire' single, a compilation of early material called Acting Thick for Money and the superbly grumpy Courage, for Tomorrow Will Be Worse EP. 'Meet Me at the Depot' is a relentless, mid-paced tune that builds its tension through sheer repetition. This idea is echoed in the accompanying music video which sees a man stuck in a kind of Groundhog Day scenario. It's these 'ordinary people' stuck in private hells and suffocating routines that many of Paul Ackroyd's lyrics seem to focus on. In 'Meet Me at the Depot' Ackroyd is planning his escape as he comes to a rather bleak conclusion: "There is nothing of value here, this is what the angels say". The Wind-Up Birds are on fine form.
Second track 'Popman' picks up the pace with pounding drums, lively guitar solos and sharp, witty lyrics. The sentiments seems genuine though; Ackroyd just wants to be a pop star as he sings, "I always fancied being a popman" and informs us that "It takes a lot of effort to appear this lazy…". It's an addictively brilliant Buzzcocks-esque tune and should go down a storm played live. I've just listened to it three times in a row and I'm smiling like a buffoon; it's that good.
So The Wind-Up Birds haven't changed their musical direction, they still sound like a mixture of Buzzcocks, The Fall (at least their more straight-ahead stuff) and Art Brut. But who wouldn't want to sound like Buzzcocks, The Fall and Art Brut? This is intelligent indie-punk played with tonnes of heart and conviction, I for one can't wait to hear a full length LP. The Wind-Up Birds are bringing pop to the people.