RNDM - Ghost RIding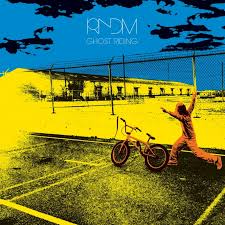 Side-projects can be either inspiring or incredibly dull and derivative. The history of successful ones in equalled by those efforts where you just end up wishing all parties would go back to recording with their normal mates. RNDM tends to fall into the latter category more than the former one.
This is slightly surprising as RNDM includes Jeff Ament of Pearl Jam, which spawned Brad in the early days of the band, as well as Eddie Vedder's rather brilliant Into the Wild soundtrack. This is a lot more mainstream and nothing like any of that. However, it's also a bit uninspiring at times.
This is RNDM's second album and it sounds very poppy, a little retro and very much a project where those involved can express themselves. The title track is a high point, a rousing number that swells when it should and hangs around the ears far more than other efforts here. The style of music is a breezy pop one with occasional electronic flourishes that threaten to make this a more interesting affair than it is. Stumbling Down sounds like a call to arms, well more like a loud request than a call as it doesn't really push the volume up or get the heart racing. Comfortable almost bridges the gap between this modern pop approach and a more 70's prog approach…mainstream prog though. Stray does the semi acoustic thing quite well and could be Del Amitri or any similar band. It's quite enjoyable but again quite derivative.
The whole thing though doesn't remain long in the memory after the last strains of Dream Your Life Away finishes. It's not a bad album. It's just not a very inspiring one. Not a bad song, but not quite enough to get you hitting repeat too often this is the kind of pop fluff that barely registers on anyone's radar.