Yeasayer - Amen and Goodbye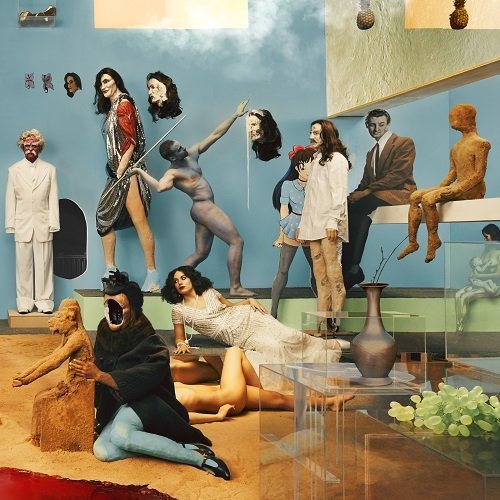 Yeasayer just can't seem to make a consistent album. They've come close, though. 2010's Odd Blood was equal parts brilliant and dissapointing. If that album's first half were released as an EP, it would have easily stood tall as their best work.
2012's Fragrant World boasted a few really good songs, but the bulk of that album's mediocrity drowned out the impact they might have otherwise had if it were more fleshed out. I was hoping they'd pull out of the slump they've seemed to be heading towards, but it looks like they might be permanently slouched, as latest effort Amen & Goodbye would indicate.
The moments that are good make listening to the album as a whole even more frustrating, since they represent what Yeasayer are capable of when they're really nailing it, but in the company of the rest of the songs they pale rather than shine.
Even while 'I Am Chemistry' contains what they do best - mixing a pop sensibility with just enough weirdness to make it edgy - it still feels like it's holding back slightly, afraid to take that big leap into greatness.
'Silly Me' is the album's best track, and a sign pointing to what might have been a really good album had they stuck with its brand of catchy songwriting that bounces along next to lovelorn lyrics: "Silly me/ Where's my head/ I can't believe/ Now it's over/ She would be here if it wasn't for silly me, silly me."
'Half Asleep' contains a duet that comes together nicely at the end with the album's best vocal turn by lead singer Chris Keating, while 'Prophecy Gun' moves at easy pace with an almost Beatles-esque melody.
Elsewhere, it loses its way. 'Dead Sea Scrolls' is all over the place. It's seemingly an attempt at infusing jazz with pop and the result borders on corny with its generic "bop-bop-bop-bop-bop-bop-ba-ya" chorus.
'Divine Simulacrum' feels lazy, and it ends up sounding like contents from a grab bag that don't really gel together.
'Uma' feels like a stab at 60's-era psychedelia that misses its mark and ends up being a limp ballad of sorts. 'Cold Night' is foot-tapping, hand-clappy, and not entirely bad, but it just drones on too long.
While a few songs stand out, much of Amen & Goodbye is devoid of feeling and/or directionless. There's really nothing holding it together. It doesn't feel of a piece like a proper album should, but rather a collection of songs as experiments to decide where the band is going next with their sound. Where they showed plenty of sparks in the past, this album testifies that they've ran out of oxygen to carry any kind of steady flame anymore. Who knows, though. Maybe someday the stars will align and their fire will burn brightly. As an experimantal band that occasionally hits the mark, Amen & Goodbye sees them either trying too hard, or hardly trying, and from a dull vantage point it's difficult to gain a solid perspective.