yndi halda - Under Summer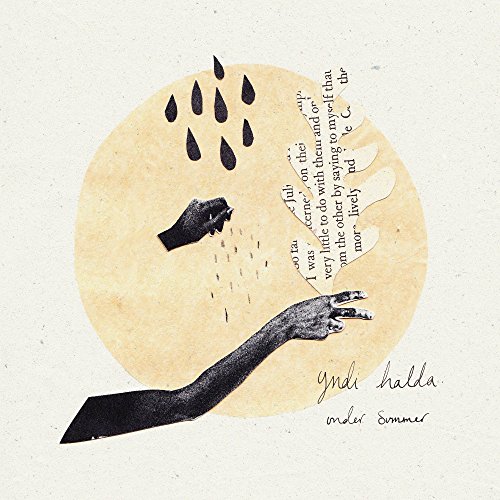 A lot can happen throughout the course of a decade. One only needs to think back on their own life for a second or two before this overwhelmingly obvious point begins to personally resonate. And when it comes to the music industry, 10 years might as well be an eternity, (especially when it's the length of time between releases). Case in point being English shoegazers yndi halda (lowercase because that's how they like it), whose debut album, Enjoy Eternal Bliss, was a welcome addition to the somewhat crowded post-rock waters when it was dropped some 10 years ago.
The band immediately brought something new to the table, with songs that unfolded more like classical pieces (shifting through movements) than your typical (drone/vamp-based) shoegaze affair. But despite an ever-increasing fanbase and the random show here and there, it wasn't until 2014 that the band made any sort of noise in regards to a follow-up. Two years later, and the band's second album, Under Summer, is finally here.
So the most obvious question is: was it worth the wait? Simply put, hell yes! Under Summer takes everything that the band touched upon with its debut, and pushes the sonic boundary outward in all directions. Throughout the course of the album's four tracks, the band gracefully ebbs and flows within the waves of its own compositions, with singer/guitarist James Vella's understated vocals providing the perfect sense of ballast, giving the otherwise lengthy songs (averaging about fifteen minutes a piece here) a measured sense of context.
With each piece of music covering so much territory, it's almost impossible to try and provide some sort of anecdotal reference for the individual tracks, but suffice it to say that from the opening arpeggios of "Together Those Leaves" to the final crash of "This Very Flight", yndi halda manages to unravel (and improve upon) just about every tried and true cliche in the post-rock handbook, delivering four 'epics' that essentially and collectively function as a modern day symphony.
While it's hard to imagine that yndi halda (or any band for that matter) would have spent the past ten years continuously working on these four pieces of music, you could almost make the argument here as every second of Under Summer feels so effortlessly (and deliberately) placed (and in this case, that's a good thing). For fans of Explosions in the Sky, Godspeed…, Russian Circles and any other millennial-based post-rock juggernaut, if you have never heard yndi halda, you need to do yourself a favor and listen to this album.