Animal Collective - Painting With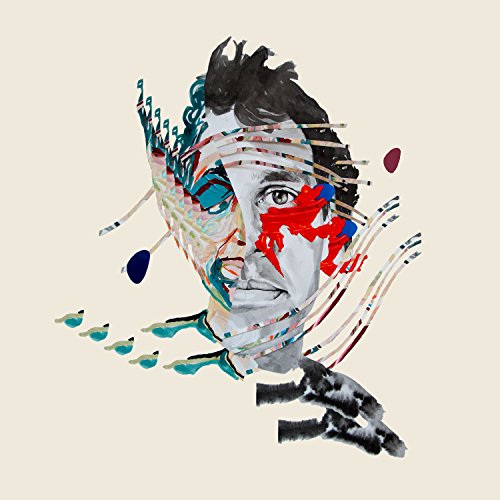 Think back to when you were a kid and picture yourself jumping into a pit of multi-colored balls that not only surround you, but fly at you from every direction as other kids bounce nearby. If you remember the experience firsthand or can imagine this scenario then you have somewhat of an idea as to the sensations emanating from Animal Collective's 10th studio album Painting With. The colors are everywhere, shooting out from a bucket of paint and the splashes never let up for even one moment.
If you think about it, most of Animal Collective's music up to this point could be seen as embracing the values inherent in painting and visual art: tone, contrast, emotional expression, abstract ideas, etc. This album seems to claim that even more specificially via its title and cover image, and it certainly lives up to this ideal. The music takes its cue from a varied, sonic palette of skewed melodies and wild instrumentation.
In a recent interview with Pitchfork, Brian Weitz (Geologist) alluded to the back-to-basics approach that acts as a foundation for the album: "When the three of us started improvising together in our New York apartments in 2000, the music always had that stripped-down, primitive aspect to it rhythmically. It's sort of returning to how we related to each other a long time ago."
All the band's hallmarks are here: abruptly shifting rhythms, quirk-laden melodies, and volleying vocals but without the usual drone and reverb of past work. For the most part, they seem to be enjoying themselves while revelling in the creative process.
There's a renewed exuberance that calls to mind the brand of energy they've always represented. The bouncy 'FloriDada' feels organic, swelling with surf-y, wave-riding vocals that's sure to please hardcore fans and newbies alike. 'On Delay' has an ecstatic, giddy-up beat that gallops toward its postcoital-like ending that's prefaced with the line "So turned on by the delay" delivered in slow motion by Noah Lennox (Panda Bear). 'Spilling Guts' is brief, but its jerky rhythm provides enough meat to sink your teeth into.
The band's vocal acrobatics are displayed to full effect on 'Lying In The Grass' and 'Summing The Wretch'. The former sees their stacked vocals - instruments in themselves - cascading like falling blocks with a nice jazz element thrown in to compliment its free-form feel. Their voices on the latter are cut into something choppy and jagged, slicing through the shaky rhythm like a pair of caffeinated scissors.
There's also a tight, hyper production that's seen on the hurried 'The Burglars' and 'Natural Selection', which jumps along with a pogo-stick melody.
The album's big, shining moment is the female-empowering 'Golden Gal'. It's highly infectious, touching, and one of the best songs they've written to date. It's commanding, dropping the beat like a cement brick to reveal the hot, glowing core of the energy that informs their sound. The lyrics then become part of the equation, working to stunning effect: "You'd think the gals should feel so comfortable these days/ But sex and gender bring some troubles to the fray/ And trouble tears apart/ Another golden heart/ So I want to be the reminder that she's stronger than the both on other days/ Golden Gal/ Gave me my strength, she said 'I'll be here for you later boy, now run along you have to fall'/ Golden Gal/ You gave me my faith and all it took was some belief/ I don't believe that she should change at all/ ...I will follow my Golden Gal."
Where songs fall a little flat or seem a tad uninspired ('Vertical' and 'Bagels In Kiev'), it points to a quickness of ideas. The jack-in-the-box immediacy works for the most part, but perhaps a little less compression might have helped flesh out some of the melodies into something bigger and wider. At times, the album feels too tightly squeezed together and not as pliable as previous work, but that's only a minor criticism.
I once worked with a guy who described Animal Collective's music as similar to a Beach Boys record that's been out in the sun too long. That sentiment is interesting, especially now in light of the fact that this album was recorded at the same studio whose walls saw that band's influental Pet Sounds take shape. It's a jarring experience, sure, but that warped quality has been flattened out, leaving this album with mostly good vibrations.
Although Painting With never equals the build-up/anticipation of songs like '
' from
Merriweather Post Pavillion
, it's still close to that liquid-like joy, except here the BPMs are turned up way higher. It shows they're still more than capable to gel together as a group even with their separate solo projects on the side, highlighting the conjoined efforts that their band name implies. It has a skipping-record quality, but being stuck in the groove is what it's all about. The band members play off each other even more on this album than before, and the important, obvious thing here is that they're having fun.
Painting With
is both a step forward into new territory and a step back into their signature sound that's still delightfully experimental, still solid, still Animal Collective.
There are no comments posted here yet