Various Artists - Ork Records: New York, New York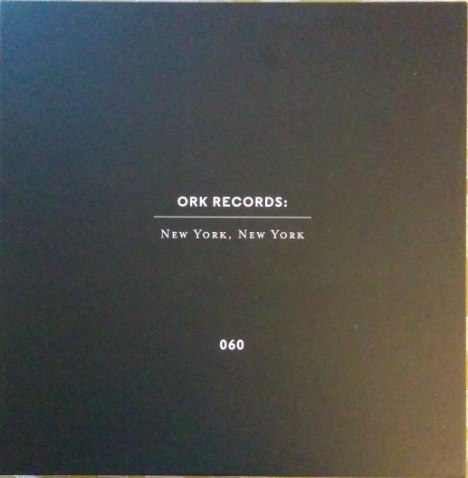 Tulsa-born William Terry Collins gravitated to San Diego in the early 60s, eventually opening a bookstore (The Tiny Ork) that would yield his pseudonym, Terry Ork. Following Andy Warhol's entourage back to New York (after they had filmed San Diego Surf), Ork became friends with Warhol assistant Gerard Malanga and soon found a job at Inter/View magazine, coupled with a managerial spot at Greenwich Village film emporium, Cinemabilia. He hired a spike-haired kid named Richard Hell to run the mail order department, and before you could spell C-B-G-B, a movement was born, with Ork inaugurating the punk label that bore his name. Numero Group, an esoteric imprint in its own right, celebrate the label's 40th anniversary with a 4xLP/2xCD box set which gathers all the Ork singles (and tosses in several unreleased tracks for good measure) and traces the history of the label through a 100+ page essay written by compilers Ken Shipley and Rob Sevier.
Complete discographical releases are not rare, but usually tend towards corralling popular imprints such as Motown, Stax, King, Immediate, et.al. Only John Peel's Dandelion box set comes to mind as far as labels with more historical interest that economic return. But the authors claim that Ork was "the world's first punk label", so a musical archaeological dig is certainly in order and this set delivers the goods with reverence, style, and class, bringing us into the heart of the dirty, dingy Bowery scene that birthed musicians and music to match.
The book alone is worth the price of admission, and that's the only way to get it (courtesy a dubious, but regrettably understandable marketing decision to not sell the book separately). But anyone who's nostalgic for the early NY punk scene will not mind, as the music is just as important. In fact, Ork's story eerily parallels the tale of Jake Riviera and Dave Robinson's own legendary punk imprint across the pond, Stiff. Releasing some of the earliest material from artists who would flee for greener pastures (and more "green"), both Ork and Stiff were responsible for unleashing some of the most important and influential artists of the volatile late 70s/early 80s music scene.
In Ork's case, it all began on August 19, 1975 with the double-sided debut single from Television, 'Little Johnny Jewel' parts one and two, bearing the catalogue number that immortally etched that date into music history: ORK 81975! [Sadly, the CD version gives you the 12" reissue that patched both parts together on one side and drops the B-side, a live version from the middle night of the band's last performances at The Bottom Line in NYC on July 28, 1978 (mistakenly identified in the book as their last show). So, technically, if you buy the CD version, you are not getting the advertised "complete singles" package – collectors beware!] Perhaps fittingly, ex-Television bassist Richard Hell (with an unbilled Voidoids) followed Television's single with the second Ork release, his Another World EP, unveiling the initial version of his legendary '(I Belong To The) Blank Generation' (which, perhaps not coincidentally, would be released in Britain on Stiff!)
Subsequent singles (Ork didn't release albums) included Alex Chilton's debut solo release (Singer Not The Song EP), as well as Deviants' front man Mick Farren's debut solo single, 'Play With Fire' backed with 'Lost Johnny', a co-write with Lemmy from Hawkwind/Motorhead. Farren's backing band featured a bunch of pick-up musicians that included Voidoid (and future Ramones) drummer Marc Bell billed as The New Wave, a phrase that Ork allegedly coined to reflect the new sounds emanating from the bowels of New York and based on his cinemaphilic appreciation of French Nouvelle Vague (aka New Wave) director Jean-Luc Godard!
The non-hits keep on coming, but it's the musicians that Ork brought together and championed and gave some of their earliest waxings to that are the highlights of this essential box set: the reissue of Lenny Kaye's debut single from 1966 (under the pseudonym Link Cromwell); Chris Stamey's solo debut (with assistance from Alex Chilton!); Lester Bangs' legendary 'Let It Blurt' 45 with Voidoids guitarist Robert Quine, Contortions guitarist Jody Harris, and future Patti Smith Group (and Church) drummer Jay Dee Daugherty; the lone single from The Idols, featuring the New York Dolls' ex-rhythm section of Killer Kane and Jerry Nolan; and solo efforts from Peter Holsapple (with help from Chris Stamey and Mitch Easter – an embryonic dB's) and ex-Dead Boy Cheetah Chrome.
The package is sweetened with the inclusion of several previously unreleased tracks, including a 1978 track that Richard Lloyd recorded with Chris Stamey, and punkier versions of The Feelies 45 'Fa Cé La' c/w 'Forces At Work' than the rerecorded versions that would appear on their debut album (ironically also issued on Stiff!) The single was pulled from its slated May 1978 release (it even got to the catalogue number stage – ORK 81980, although Shipley and Sevier claim that 'Big Plans' was the intended A-side, with 'Fa Cé La' relegated to the B side. In any event, you can hear all three. Unfortunately, our review copy did not include the bonus 7" 45, coupling an early version of 'The Boy With The Perpetual Nervousness' with a live version of 'My Little Red Book' from a 1976 CBGB's gig.)
If you are into the late 70s NYC punk scene, then for historical purposes alone, this box set is essential, as it includes some fantastic, energetic music from a transitional phase in music history whose influences are still felt today. [One major knock against the set is the horrible track sequencing which splits up the original 45s and tosses the tracks haphazardly across the two CDs – in true punk fashion, I suppose, but annoying to purists who want to hear the artists' A/B sides together as they were intended.] Still, this gross oversight is somewhat redeemed by the shitload of rare and exclusive contemporary photos of all the artists that will put you right in the gutter with all the other bodily fluids streaming down into the Bowery gutters. Sadly, Ork is not here to bask in the glory of his creation, having succumbed to cancer about 10 years ago; luckily he didn't have to suffer the ignominy of watching The Big Bang Theory's Johnny Galecki portray him in the execrable CBGB film. But you can pay him his just reward by reliving the amazing legacy his little imprint that couldn't left behind.
There are no comments posted here yet