The Front Bottoms - Back On Top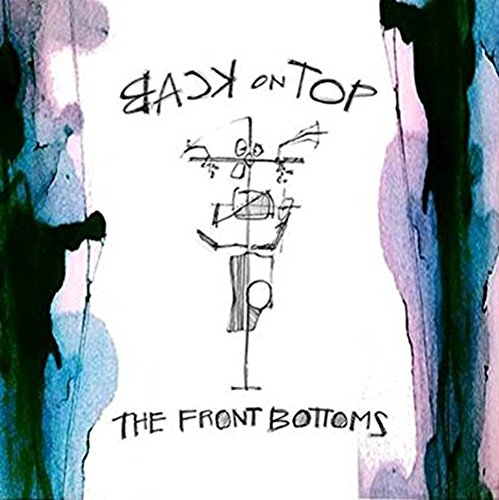 Getting a break with a big label is what most bands have always sought, additional exposure and distribution is sort of the Holy Grail. When The Front Bottoms landed with Fueled By Ramen then, it must be a dream come true, but it doesn't mean plain sailing for the band. Back on Top comes with added pressure to succeed.
Their name may be ridiculous (possibly a Scrubs reference) but their previous album, Talon of the Hawk ,displayed a classic mixture of bouncing pop-punk rock with awkward teenage angst. It felt loose in it's themes and scattered, matching the psyche of their target audience. However, their new label appears to have caused them to settle for something a little less crazed and far more straightforward - showing that the industry bigwigs don't always have the key for what actually makes a band great.
'Summer Shandy' and it's forlorn chorus of "I got them bad boy blues baby, yeah that would be great that would be beach house living" shows them on top form, bringing the hook and the self-aggrandising daydream which makes them great. But where frontman Brian Sella previously vibrated with his own personal fears, tales and character, he now sounds bored. Opener 'Motorcycle', 'Cough It Out' and '2YL' all are missing something - all of the chunky riffs and classic pop-rock drumming will keep crowds bumping along but it's easy to see that this is a band who've had some of their spirit reigned in.
It's a bit deflating, especially when you see the potential in songs like 'The Plan (F**k Jobs)', and the jaunty acoustic matched with horns. The Fueled By Ramen paint by numbers game is being played though, making the descent into "I want to hug and kiss you" makes you want to switch off completely.
There is enough here, and there has been enough previously, to suggest this band can come good given the chance. The worry is that, taken out of their relative obscurity in their own scene, all of their edges have been smoothed off - regardless of how weird and immature they were. The closing track 'Plastic Flowers' has the stripped back gang vocal chant of "I believe someone somewhere's got a plan for me, even if I don't know it yet", let's hope it's a plan of their own creation.