Close Lobsters - Firestation Towers 1986-1989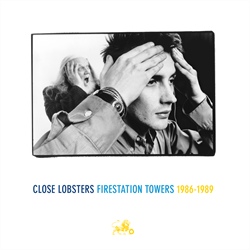 Paisley, Scotland's Clobbers were one of Fire's earliest signings (along with Pulp, Blue Aeroplanes, and Spacemen 3) and were featured on NME's legendary C-86 compilation (by the B-side that gives this comprehensive retrospective its title). This 3-CD/LP set collects virtually their entire Fire output (only the 1988 B-side 'Violently Pretty Face' is conspicuous in its absence), which is everything the band released during their initial incarnation up to their final single (released on Caff in late '89). American college radio soon caught on after Enigma released their debut album (Foxheads Stalk This Land) domestically, leading to much praise in the music press over there (Rolling Stone were particularly enthusiastic). Successful tours of North America, the UK, and Germany were followed by a second album, 1989's Headache Rhetoric and the band seemed set to take off with Britpop around the corner. But inexplicably, the band dissolved on the cusp of potential superstardom, although they did reform over 20 years later to play several Popfests in Madrid, Berlin, New York, and Copenhagen. A new EP (not included) was released last year with teasers that new material was imminent, although nothing but silence has been heard since.
So we have these three albums (or CDs) to relive their heyday: their two proper albums and a third album collecting all their singles, Forever Until Victory, which Fire initially released in 2009. 'Just Too Bloody Stupid' kicks off the debut with a rousing surf riff and snappy backbeat eventually morphing into a jingle-jangle ramble with a bitchin' bass solo – the virtual kitchen sink tossed onto a singalong pop tune that announced a talented bunch of Paisley poppers were ready to take on all comers. 'Sewer Pipe Dream' is even better, its driving guitar strum obviously appealing to David Gedge, who was forming his Wedding Present at the same time and who would later cover the Clobbers' 1987 single 'Let's Make Some Plans'. 'I Kiss The Flower In Bloom' and album (and possibly career) highlight 'A Prophecy' were melancholic pop lullabies that solidified their popularity on American radio, with chiming guitars, smooth harmonies, and evocative lyrics sticking around long after the album finished.
Other winners from the debut include the tragically overlooked heartbreaker 'Pimps' and the epic, proto-Stone Roses closer 'Mother of God', which alongside the Weddoes own epic, 'Take Me' may be the most emotionally draining guitar track to emerge from the UK in the late '80s.
An enthusiastic tour (represented herein by a live rendition of 'Never Seen Before' from a Janice Long BBC Session) and three singles ensued before their sophomore (and final) effort Headache Rhetoric hit the shelves. This one continues the jingle jangle Byrdsy sound with more elaborate arrangements on tracks like 'Gutache' and 'Nature Thing' and perhaps copping some psychedelic licks from Teardrop Explodes and The Church. This one takes a little longer to sink in, and without anything approaching the magnetic ear candy of the debut (although the sublime 'Got Apprehension' and the eerily Wreckless Eric-sounding 'Skyscrapers' are pretty damn close), the album sank and the band followed.
A third album/disk collects all their A's and B's (excepting the aforementioned 'Violently Pretty Face'), so you can track their development outside the confines of the albums. The band (and label?) were also thoughtful enough to (almost) never include the single tracks on the albums [I'll let the trainspotters amongst you identify the two exceptions!], so in effect, Forever Until Victory becomes their de facto third album of new material. Unfortunately, the compilers have scrambled the chronology (I HATE that), sequencing the A-sides out of order and dropping in random B-sides throughout, tossing a spanner in the works and dashing any hope of a serious analysis of their changing sounds and musical development. Pity. Still, like Buzzcocks, et. al., they were often more adventurous in the 7" format, as is the case with their herky-jerky debut 'Going To Heaven To See If It Rains', which actually sounds like an obscure Buzzcocks' b-side!
So we're reduced to a hodgepodge analysis that will highlight my personal favourites, such as the female backing and reggae beat on the rocksteady 'Never Seen Before' (also available in a live rendition), the brilliant, glistening guitar lines on the Church-like 'Let's Make Some Plans', their best single and one that should've been HUGE and broke them to a wider audience, and the chugging drive of 'Loopholes', which is reminiscent of their contemporary Midlanders, the Mighty Lemon Drops, another American favourite.
The punky 'Nature Thing' shows another side of the band's musical chops, dialing up Stuart McFadyen's drums while still playing off Tom Donnelly's swirling guitars, and the headnodding beat to the unforgettable B-side 'Skyscrapers of St. Mirin' illustrates that, like The Jam and a few others, their songwriting was so strong that they could relegate such an obvious crowdpleaser to the flip side of a 12" EP! Good on ya, lads! Other favourites include the frenetic energy of the box set's title track, a re-recorded, shorter version of 'Pimps' [that cuts the extended coda but adds loverly female backing vocals], and the frustration and nationalism inherent in 'From This Day On', which seems to touch on the Falklands War. Apologies to the band for any unintentional misinterpretation of the lyrics:
"From this day on
There never was a better man than Jack
In banana republic UK everything's up for grabs
Get me home, get me home."
I should also point out the band's penchant for exciting reworkings of some of their influential favourites, such as the re-lyricked 'Hey Hey My My (Into The Black)' that replaces the, by now insignificant old fart Johnny Rotten with the iconic Nikki Sudden; a deadpan reading of Leonard Cohen's 'Paper Thin Hotel' that seems incongruous in their discography, but upon closer hearing suggests an influence on some of the band's melody lines; and perhaps their most telling cover, England's Glory's 'Wide Waterways', with Andy Burnett's spot-on Peter Perrett impersonation and a suggestion that his later project, The Only Ones, may have been their biggest influence.
So, yes, there's a lot of material to digest when revisiting a band's entire back catalogue, even one as relatively sparse as Close Lobsters. But there's gold in these here hills and they are certainly ripe for a re-listen and re-evaluation as one of the UKs finest exponents of guitar pop, a seminal bridge between the C-86-ers of the '80s and the Brit poppers of the '90s.
There are no comments posted here yet