Veruca Salt - Ghost Notes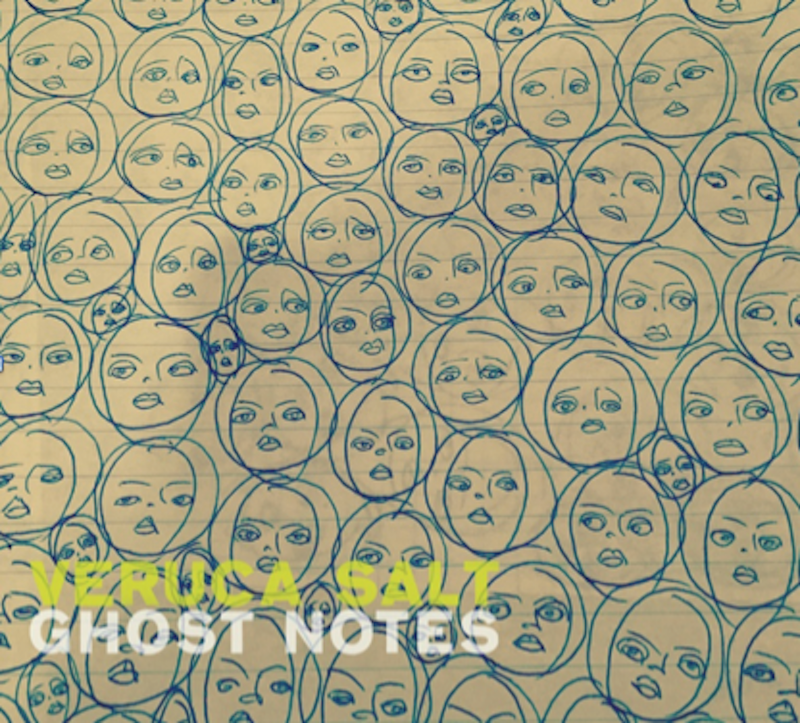 In a 'right here, right now' (see what I did there?) culture, few (if any) bands from the 90s have been able to remain relevant without resorting to a continuous mining of their past glories. (Even fewer bands seem to bother with the almost thankless task of releasing new material.) Ghost Notes, the latest release from Chicago natives Veruca Salt, finds the once dysfunctional duo of Louise Post and Nina Gordon finally burying the proverbial hatchet, while simultaneously producing a surprising new album that immediately reminds us all of just how good this band once was.
While Veruca Salt produced a gem of a debut back in the mid-90s with the fiery American Thighs (propelled to the surface of the then-saturated alterna-radio airwaves on the strength of the hit 'Seether'), it was the Bob Rock-produced follow-up masterpiece, Eight Arms to Hold You, that really cemented the band's mark on that ever-changing musical landscape. Unfortunately, the volatile chemistry of co-frontwomen Nina Gordon and Louise Post proved to be too much for the band to endure, and Gordon left the group shortly after touring for Eight Arms… was completed.
In the years that followed, Gordon saw some moderate success as a solo artist (remember 'Tonight and the Rest of My Life?'), while the Post-fronted Veruca Salt released a couple of lukewarm releases and continued to tour sporadically. The problem with both Gordon's solo career and the Gordon-less Veruca Salt albums was the classic rule about the whole being greater than the sum of its parts. The magic of Veruca Salt was the perfect way the band brought together Gordon's sense of melody with Post's punk-fueled angst, and neither post-breakup vehicle ever really came close to the quality of the band's previous output.
Ghost Notes very much sounds like the album the band would have/should have made back in 2000 had they not splintered apart. All of the elements that made those first two albums classics are represented here. Songs like 'The Gospel According to Saint Me' and 'Laughing in the Sugar Bowl' immediately recall the infectious energy of previous hits like 'Volcano Girls', while 'Prince of Wales' is a brooding take on the ebb-and-flow dynamics that the band mastered long ago.
Ghost Notes has a loose narrative running throughout as it unravels the story of what went down all those years ago, and what eventually brought the songwriting partners back together. 'Empty Bottle' and 'Lost to Me' are particularly confessional in this regard. Ghost Notes is also a perfectly produced album as the band chose to avoid giving the songs that shiny 2015 sound that so many modern records wind up with, opting instead for a more authentic, lo-fi and live approach.
The trap that so many reformed bands seem to fall into is that self-imposed idea that they somehow need to bridge the gap between yesteryear and today. Veruca Salt wisely choose to simply pick up where they left off, even dusting off half-finished songs from long abandoned sessions.
Time, being the ever reducing constant that it is, tends to separate and widen pre-existing divides. Bands either typically spark, peak, falter and fade, or, rise above the fray and achieve the perennial 'touring act' status that the likes of Pearl Jam and Phish have spent the past two decades enjoying. All of that being said, it's rare (and I am struggling to come up with more than a mere handful of examples) for an artist to still be recording 'relevant' albums two decades into their career.
So let's consider Veruca Salt something of an anomaly, because they have managed to do something that most of their contemporaries have completely failed to do; they have made a good (really good actually) album in 2015. If you liked what Veruca Salt was doing 20 years ago, or even just have some burning desire to hear a fresh slab of mid-90's rock, then you will be thoroughly satisfied with Ghost Notes.
There are no comments posted here yet