Summer Camp - Bad Love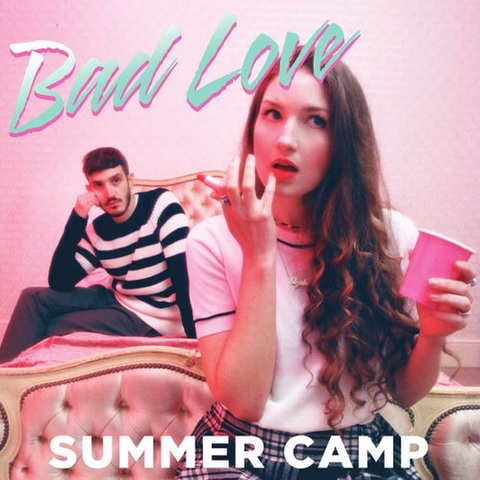 Four years after their debut, London-based Summer Camp, comprising Elizabeth Sankey and Jeremy Warmsley, are back with their new album, Bad Love. It's a well made piece of music that shows the band maturing.
I knew I was going to enjoy Bad Love from the opening of its title track. There's serious depth in the noisy, oversaturated sound of guitars and synths all crushed together, belying the craftsmanship hiding within, and it has an amazing, timeless quality that makes you certain you've heard the song before, if only in a dream. Sankey's lyrics are pretty on point, cleverly blending the knowledge that her own love was unhealthy with the belief that the new love is unworthy.
'You're Gone' has Warmsley taking lead, and sounds like an outtake from Yo La Tengo, with a fuzzy guitar and somewhat muted vocals in the chorus giving way to a passionate chorus sweetened by tinkling piano. Sankey is back at the mic for 'Sleepwalking', a bobbing song filled with ukelele-style guitar strums and a catchy beat, and her most angelic singing.
Still, after a rock solid start, the band gets a bit hazy on a number of songs, many of which are pleasant enough but fairly innocuous, such as the 'Run Away', where Sankey struggles with her high notes a bit, and 'If You Hate Me', which washes past without leaving anything beyond her sad statement: "I'm so stupid", which is said in exactly the way self-recriminations are made during an ugly breakup. 'Everlasting' brings to mind alt-rockers Lush at their most placid. 'Beautiful' ironically strikes a weird, almost ugly chord, and is probably the weakest song of the set.
There are other good songs here though. 'Horizon' is a joyous mashup of The Beatles and Luscious Jackson, if such can be imagined. The strumming guitar and warbling organ are just so damn happy, as is the great harmonizing led by Warmsley. This is a song that brings to mind running across fields of green under blue skies and a smiling sun. And the album ends on a strong note with 'Keep Up', a fast-paced vocal diatribe from Sankey backed by plucked guitar and pounding beats.
The set clocks in under 40 minutes and is gone before you know it. The good songs are excellent, and the other songs are still good enough that you generally won't feel compelled to skip any of them. The overall impression is of a band with a handful of awesome ideas, and some less interesting ones that weren't fully developed. Still, there's no reason to believe this young pair won't continue to improve with their next release.