Six Organs of Admittance - Hexadic
by Andy Brown

Release Date:2015-02-16

Label: Drag City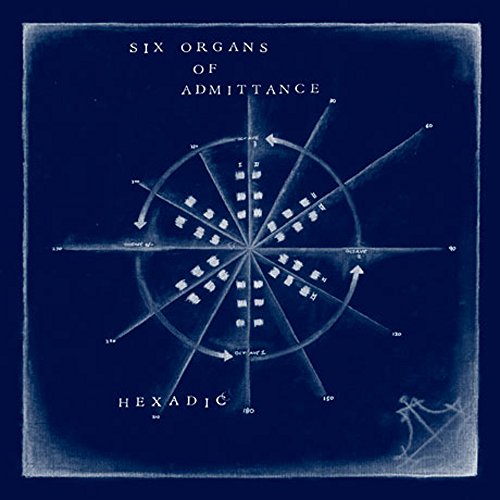 Ben Chasny is a consistently creative, challenging and surprising musician; a psychedelicised guitar hero with restless fingers and an active mind. While playing under his Six Organs of Admittance moniker (and as part of various collaborative projects), Chasny has turned his hand to everything from reflective finger-picking folk to electrifying psych-rock and out-there experimentalism.
Hexadic undoubtedly falls into the experimental camp and is one of the most sonically jarring and creatively pure records you could hope to hear this year.
Setting aside the overdriven rock of 2011s rather excellent Ascent album, Chasny has delved deep into uncompromisingly experimental territory. The volume remains defiantly turned up to 11, yet any trace of Comets on Fire-style rock has been replaced by strangled guitar tones, outbursts of noise, meandering ambient passages, and jazzy, loose structures.
The record's noisy, seemingly unstructured sonic bombardments will either have you running for the hills or applauding in solidarity. Hexadic certainly doesn't sound like an album that particularly care's what you think.
At times Hexadic is akin to listening to New Zealand art-noise legends The Dead C, mangled guitar parts hooked up to some extremely loud and distorted amplifiers. A beautiful mess of noise and riffs and a feeling of reckless spontaneity makes the album a refreshingly raw listening experience.
Over the last couple of years, Chasny has created a compositional approach he calls The Hexadic System, applied using playing cards and their relation to the notes on a guitar, adding an element of randomness to the process of songwriting. The system was influenced by both German occult magician Heinrich Cornelius Agrippa and French philosopher Gaston Bachelard. Now, you simply won't find those kinds of influences on the new Noel Gallagher album.
Of course, this novel way of working would be nothing but a curiosity if the album wasn't any good. Thankfully, Hexadic is a many-layered and fascinating piece of work. The noise-drenched sections of Hexadic are thrillingly unhinged but the album finds another voice through its slower, stranger pieces. Tense, sparse compositions with hypnotic drones and wiry guitar-lines rub up against the album's full-on assaults perfectly. It's far from an easy listen but repeat plays reveal an album of hidden depths.
The only album I can think of in recent years that comes close in atmosphere would be Belgium's Aksu and the wonderfully mental improv metal-jazz theatrics of 2013's The Way to Destroy and Create Things. If occult influenced noise and John Zorn-esque levels of sonic madness sound like your thing, then Hexadic may just pull you into its uniquely strange orbit.
There are no comments posted here yet