Roedelius - Kollektion 02: Roedelius Compiled By Lloyd Cole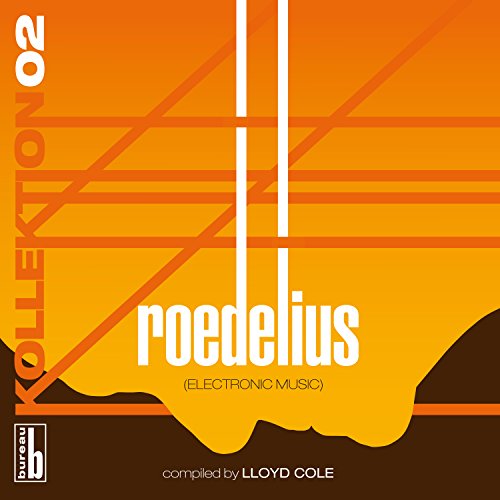 Hans-Joachim Roedelius could easily be mentioned in the same breath as the other titans of 1970s electronic music – Tangerine Dream, Kraftwerk, Eno – and indeed, he's collaborated with many of them. Roedelius is generally known for his collaborations more than his solo work – either as a member of pioneering ambient group Cluster, or for latter-day collaborations such as Roedelius/Lunz.
However, Kollektion 02 is comprised entirely of his solo works, as culled from an archive by British songwriter Lloyd Cole. That said, those early 70s touchstones still give a pretty good idea of what to expect here, as these pieces bear the hallmarks of the era.
Most of Kollektion 02 deals in the same sort of warm, analog synth sounds, minimalist repetition, and quasi-African or electronic percussion that was de rigeur for early ambient. For the most part this is welcoming, comforting music – there's nothing as foreboding or atonal as Cluster II in here, and it's much more in line with the style of Sowiesoso (which makes sense, given that Cole quotes it as one of his favorites in the liner notes). A lot of this sounds like the sort of soundtracks that were updated by Boards of Canada (or, alternatively, parodied by the TV show Look Around You).
However, there's an artistry here that many of Roedelius's contemporaries couldn't touch. For one, Roedelius is an expert keyboard player – he's got a deft, rhythmic touch that's precise without being fussy. For another, he has a classical compositional sense, with interesting chord-changes and a flowing sense of tempo that can be reminiscent of Satie. The result is very cinematic, and many of these tracks would serve as excellent background music for a 70s arthouse film.
The more interesting tracks here sound like templates for many of the defining features of electronic music as a whole. 'Zwei sind eins' has a gloomy, portentous vibe that sounds like it could have influenced the instrumental sides of Bowie's Berlin trilogy. 'Langer Atem''s delicate, swirling, minimalist piano pattern is offset by pounding toms, yawning vocals, and a spritely organ lead. On the other end of the emotional spectrum, the delicate, ethereal 'Ampfer', and swooping pads and low-passed percussion of 'Sonnengeflecht' sound like precursors to the ambient side of 90s IDM.
That said, even with these highlights, the sketchier tracks, such as the circus-like 'Zeremoniell', are rather too long and underdeveloped to be interesting. Cole's selections also seem to have a fairly narrow focus, which can lead to parts of Kollektion sounding a little too similar, and blurring into one another. Much of this drag takes place in the middle of the record.
The highlights here, however, should pique the interest of those who like early 70s electronic music, particularly those with a historian's bent. This collection could be great study music, or perhaps a soundtrack for a very relaxing car drive. While it might not be the best introduction to Roedelius' vast body of work, it's certainly a specific slice of what a great talent has to offer.
There are no comments posted here yet