Ormonde - Cartographer/Explorer
by Steve Rhodes

Release Date:2014-11-03

Label: Gizeh Records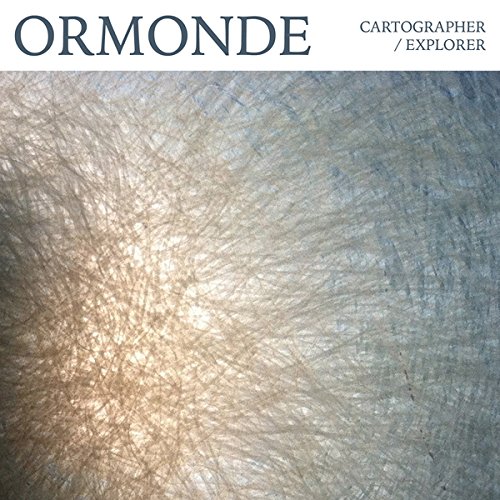 Formerly the lead vocalist with the much-lauded Trespassers William, Anna-Lynne Williams didn't waste too much time after her former band's dissolution by collaborating with multi-instrumentalist and vocalist Robert Gomez on Ormonde's 2012 debut album, Machine. Two years on and returning to their natural home on Gizeh Records (who released Trespassers William's The Natural Order of Things), Ormonde have produced a terrific, consistent album that strays little from Anna-Lynne's impressive back-catalogue.
Opener 'Beach' leads with luscious organ, soft piano and echoed guitars, supported by buried electronic percussion, all providing excellent backing for Anna-Lynne's beautiful and enchanting vocal. With echoes of Suzanne Vega and especially Still Corners, the vocal is matched perfectly with the spacious track, which barely ventures from its solemnity and subdued but controlled pace, with the exception of a haunted fairground timbre in the organ towards the end. Setting the tone for the album, this is a beach at dusk with the last remnants of the sun twinkling on the horizon and a strong start.
'A Grand Design' continues the mystique and intricate instrumentation, with barely-played guitars twanging effortlessly until electronics kick in and Robert's heavily-distorted, almost lo-fi vocal appears, like early Babybird or Tarwater. Anna-Lynne's vocal neatly weaves in and out and, like the opener, the track possesses plenty of room to breathe. The sanguine pace remains but this does not lessen the impact of a song that becomes increasingly more mantric, especially in the repeated line "I start the message", which leads into a comforting, enlightened finale.
The pattern is repeated on 'Strange Wind' where barely-audible electronic drums and hypnotic, delicately plucked guitars play at an almost motorik tempo, supporting Robert's hushed and deep vocal. Nicely-delayed samples regularly interject along with Anna-Lynne's angelic backing, adding a soothing layer of melody that washes over a great song.
Though the album often uses this dual vocal to great effect (such as on the restrained, repetitive and delighful Piano Magic-esque inverted title track 'Explorer/Cartographer'), it's Anna-Lynne's lead vocals and their dynamics that make the greater impact and are a key constituent to the strength of the release.
'Threshold' is a perfect example, leaning towards Yo La Tengo's quieter, less manic moments or a countrified Low, with acoustic guitar, a subtle organ and patient, bass-heavy drums providing the backing for Anna-Lynne's relaxed, lullaby-ish vocal. 'Paintings' retains a country-tinged spirit, with more predominant drums, elements of Novak or a rustic Broadcast, but also with a sultry 60s spirit which seems more Mazzy Star in tone and vocal, especially when Robert's Morricone guitar appears to add further substance to the track.
A key exception to this and the whole ethos of the album is 'Snake', with its samples and keys initially more at home with Kraftwerk, Blade Runner or a BBC dystopian drama, especially in its driving, heart-beat pace. Adding chiming guitars, rolling drums and Robert's vocal, there is a lot going on but the instruments complement each other without any factor dominating, with the line "I had a dream" neatly surmising the almost trance-like state of an impressive track.
Though the album is consistently strong there is one track that truly stands out, well above the rest. 'Collapse' initially begins dark and claustrophobic, with a reverbed guitar following Anna-Lynne's deeply solemn vocal. There are mantric, marching percussion and keys in its verses, which build into a truly breathtaking bridge that simply floors you.
Anna-Lynne's vocal takes a higher, more vulnerable octave and, combined with the backing, the song reeks of melancholy and sadness, sending shivers down the spine. An achingly beautiful and immediate track that leaves a lasting memory and yearning for repeated listens.
Dropping the pace to almost non-existence, 'Bled Out' neatly closes the record. With its Mogwai-esque organ and wandering samples gently pulsing into the song, it is a reflective and optimistic track that wraps up a superb album.
You know those situations where you're at the point where you're not awake but not asleep either? Cartographer/Explorer is the soundtrack that plays in the background of that lucidity. A truly hypnotic and dreamy record which is a perfect accompaniment for those darkening nights, with the wind howling and the windows rattling, to reassure you, providing you with comfort food for your ears.
There are no comments posted here yet