Wife - What's Between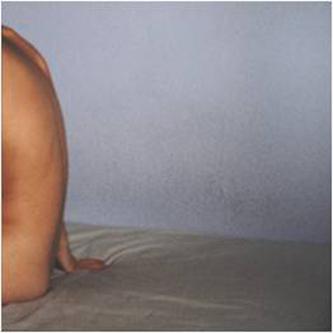 For fans for James Kelly's atmospheric black-metal band, Altar of Plagues, his new outing as WIFE (yes, in all caps, which is how I imagine a gruff Brit demands his tea) might not come as a complete surprise. Despite the stretches of breakneck drumming and warrior chieftain shouting, Altar of Plagues were prone to (slightly) softer moments of synth-pads and Kelly's melodic, reverberating singing. What's Between sees Kelly expanding those tendencies to album-length, and while most of the metal context has been stripped away, some of the textures remain.
What's Between fits with the recent slew of albums which seem to derive their sound palette from men dropping 2x4's and wingnuts on a factory floor, but Kelly's voice is the main focus. His style of singing is a breathy, sensual one which occasionally surprises with a more impassioned chorus, overlaid harmony, or vibrato.
The presence of label mate A Haxan Cloak can be clearly felt in the album's production, which is reliant on subterranean thumps and whooshing feedback as much as silence, but What's Between doesn't quite match the immersing originality of Excavation's sound design. In particular, Kelly uses a ghostly vocal effect which blurs the edges of his voice, making his background harmonies sigh, vapor-like, around his melodies. After wearing out its welcome on 'Heart', it then shows up on a handful of other tracks as well, and you wish Kelly would let his singing shine through unadorned more frequently.
When it does, the effect can be powerful. As he sings "I have lost my way/ and I won't be back" on 'Further Not Better', you're struck by a moment of fragility on an album which frequently feels impenetrable. I've nothing against a bit of sonic brutality, but the album's more intense moments often feel fabricated, lacking a trajectory. The dissonant pounding and distorted bass of 'Salvage' is more reminiscent of his work with Altar of Plagues, and it comes off as out of place situated amongst more accessible songs like the dancefloor-ready 'Dans Ce' and the surprisingly soulful 'Fruit Tree.'

It's unfortunate that the production can sometimes be a turn-off, because Kelly is an uncommonly gifted singer, and a number of tracks demonstrate that electronic music is a path he'd be wise to continue. 'Like Chrome' is an intriguing opener with some creative vocal fragments and enough space to let his production skills stand out; 'Living Joy' is a captivating techno track built from post-punk guitar samples; the aforementioned 'Dans Ce' builds to a mesmerizing finish. As Kelly continues to develop his own unique voice apart from Altar of Plagues, I'm excited to see where he'll go.
There are no comments posted here yet