Brian Eno & Karl Hyde - Someday World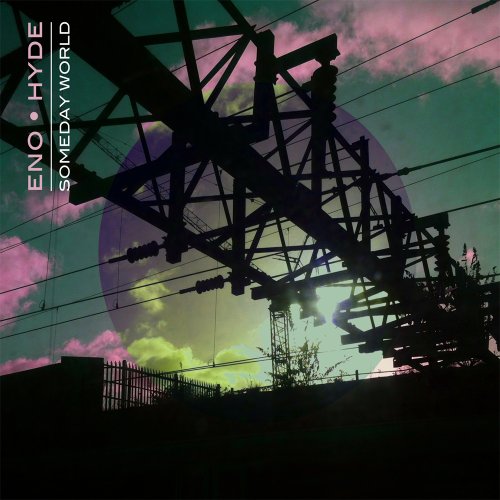 Someday World, the spectacular new album from Brian Eno and Karl Hyde comes on like a love letter to post-punk production and today's electronics, all thrumming synth-bass and melodic but droning vocals. The opening track, 'The Satellites', takes this even farther, including a New Order-esque guitar solo in the middle, straight out of 'Love Life'.
'Daddy's Car' uses synth-bass lines that could have been from 'DARE' and couples them with jazzy rhythms and a catchy melody which will leave you humming all day long. The tour of beloved influences continues on 'Witness', which has a Speak & Spell-era Depeche Mode vibe, with a glaze of modern electronics as well. 'Mother of a Dog' begins is built upon a drone which sounds like classic Massive Attack circa 'Risingson', but as sung by Tears for Fears at the height of their melodic genius.
Though that I have mentioned these influences, it would be wrong to assume that this is merely an album of pastiche. At no time does this sound like a retread. Instead, it takes some fascinating touchstones, infuses them with the magic of Brian Eno and sets them free to fly as they will.
Hyde's voice is in very fine form, and each of the songs is engaging, catchy, but not cloying or precious. The song craft is of the highest order, and is clearly a labor of love for these artists.
This is an exceptionally fine album which should become a favorite for anyone who admires post-punk/electronic/synth music, or who enjoys Eno or Hyde. As close to musical bliss as I've had in a while.