The Men - Tomorrow's Hits
by D R Pautsch

Release Date:2014-03-04

Label: Sacred Bones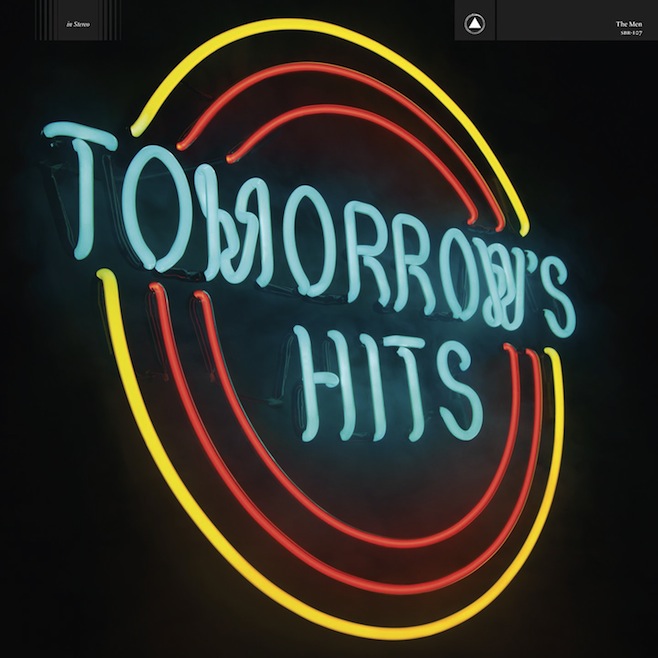 Going back to the 80s for a moment, music was different. Not just because it had punk, new wave and the emergence of CDs. No, it was also a bit more diverse in the mainstream. Alongside the cutting-edge music you had music which could have been recorded 20 years earlier, real rock n'' stuff which was succesful in the charts.
Music is, of course, timeless. However, the charts are more fickle in our current times and the formula for success is now far more scientific and processed. The Men are here to confound these times. They are here to play how the hell they like and not conform or appeal to the mass market. That is a welcome thing.
Their last album, New Moon, was criticaly acclaimed and this leaves off where that one finished. This is rock music with guitars, piano, harmonica and brass. It is the sound of a band having a good time.
This has been done before and on 'Another Night' you are are reminded of The Hold Steady and how they gained success with a similar style. Its stomping brass and piano delivery sounds accomplished and the lyrics sound plaintive. 'Settle Me Down' starts like Tom Petty's 'Won't Back Down' with a keening guitar and supporting rhythm section. It breaks into a chorus which in other hands might be twee but here sounds totally in keeping.
'Pearly Gates', the lead single, reminds you that many people class The Men as punk. It's raucous, dirty and sounds like a frieght train coming towards you. The sound of a band at the end of a set in your local pub/bar just letting rip, it's glorious. 'The Dark Waltz', meanwhile, could be handed over as is to Neil Young and Crazy Horse. It's so reminiscent, you feel it almost infringes copyright.
If you remember your North American rock staples of Springsteen, Petty and Young then you will get the feel of this. It doesn't quite have the crossover single it needs so it probably won't break into the mainstream, and it isn't music made for these times but who cares? When music is as much fun as this, it's just a reminder that some people are out there to enjoy themselves and not make money.