Maika Makovski - Thank You for the Boots
by Rich Morris

Release Date:2012-07-02

Label: Outstanding Records/Warner Music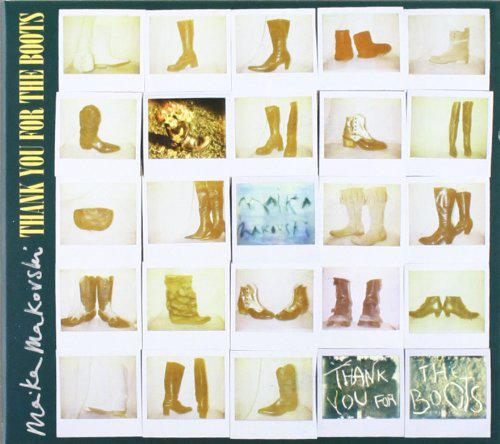 Fitting that in the 40th anniversary year of the release of David Bowie's The Rise and Fall of Ziggy Stardust and the Spiders from Mars, this new album from Spanish singer-songwriter, artist and actor Maika Makovski has more than a hint of Ziggy on it. Makovski apparently composed these songs sat at her piano, aiming for an upbeat mood, and several songs, including 'Get Along', 'Man of Talent' and 'Your Reflection', boast a flirtatious honky-tonk sound similar to that of glam-era Bowie or Elton John.
In fact, the spirit of 70s pop eccentricity is strong on this album: 'Cool Cat' is a faux-country ditty sung in an outrageously affected Southern accent; one can almost visualise Pan's People flapping about to it while a lustful Hairy Cornflake looks on. It's followed by 'Number', a downbeat dub-and-piano number on which Makovski sing-songs in a decidedly un-reggae little girl voice, "I don't know how you got my number but you might want to lose it" before grouchy post-punk guitar and brass crash in, turning this into one of the album's standout moments.
Elsewhere, the music is moodier and more mysterious still; excellent opening track 'Language' has a lovely, fidgety grandeur, while the slower 'When the Dust Clears' is pure 'dancing on a misty moor' Kate Bush - no bad thing. In fact, it's hard to imagine anyone since Bush who could attempt mixing so many clashing genres in a singer-songwriter context and pull it off with this much humour and confidence.
Mostly, however, Thank You for the Boots offers spooky, vintage rock 'n' roll tunes - again, no bad thing. Swampy blues number 'Vulnerable' sounds like it's just stepped out of an episode of True Blood and features some great Nina Simone-esque piano from Makovski. The longest track on the album, stretching into a spine-tingling, witchy groove, it's another highlight of a strong set.
Only closing track 'A Dream' feels like something of a misstep. A pretty but slight vocal-and-banjo folk song, it's a strangely unambitious way to end a compact, waste-free record which is frequently indebted to the past but seldom feels needlessly retro.