Amadou & Mariam - Folila
by Rich Morris

Release Date:2012-04-02

Label: Because Music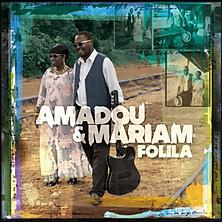 Originally planned as two albums, one showcasing collaborations with their New York mates and the other giving free reign to a rootsier sound, Folila certainly proves Amadou & Mariam's musical reach, even if quality control seems to be an overall issue. However, due to the split in its content, it's likely listeners will prefer either the slightly more Westernized sound of the collaborations with TV on the Radio, Jake Shears of Scissor Sisters and others, or the tunes which feel more representative of their Mali roots. Personally the NY collaborations have the edge for me.
The opening two songs are among the strongest here. 'Dougou Badia', featuring Santigold is a powerful rallying cry, full of rattling percussion and bellyaching guitar from Yeah Yeah Yeah's Nick Zinner. It's followed by 'Willy Kataso', a laidback funk jam with TV on the Radio, propelled along by acoustic strums and sunshine vibes. Underneath there's a darker message: "Away, away/ Go home," plead the backing vocals beneath lyrics about someone who talks a lot but doesn't listen.
Generally less enjoyable are the four collaborations with French singer Bertrand Cantat, and not just because you end up spending most of these songs pondering whether it's ok to enjoy music made by a man convicted of killing his girlfriend. Ethical quandaries aside, the problem with these collaborations is that they sound a bit too much like the kind of hoary blues jams that fill time on Later… With Jools Holland. Cantat's overwrought blues grunting simply does not work well alongside Amadou & Mariam's characteristic lightness of touch. The exception to this is 'Another Way' which locates a dub groove that works well for both parties.
Elsewhere, 'Metemya' is a rather uneven sounding blues/soul workout which apparently features Jake Shears, although I'm at a loss as to where he is on it. I guess he must have contributed the English language backing vocals on the chorus but they're so nondescript they really could have been done by anyone. At the other extreme, Theophilus London's rap on the otherwise likable 'Nebe Miri' is way too intrusive and jarring. However, probably to poorest track here is 'Wari', another bluesy rocker which is basically ruined by Amp Fiddler's clichéd exclamations of poverty.
Much better is the pair's collaboration with Ebony Bones, 'C'est Pas Facile Pour Les Aigles', which manages to hit a perfect sweet-spot between Mali effervescence and NY rock cool. 'Bagnale', featuring lacerating 'Abdallah ag Oumbadougou' is enjoyable, as are two simpler song featuring Amadou & Mariam minus any friends. 'San Toi' and especially the closing 'Cherie' are quite beguiling and lovely and, honestly, more songs like this would have boosted Folila from interesting, sometimes successful experiment to career-defining collection. Oh well, I'm sure they'll come right on the next one.