Still Corners - Creatures of an Hour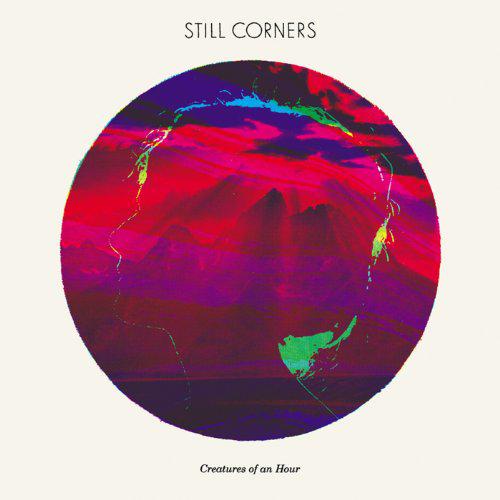 London's Still Corners were one of the stand-out acts of last year's In the City live conference in Manchester, producing a beautifully dreamy set, which while it may not have been breathtaking, showed immense promise. It's perhaps a pity that their debut album on Sub Pop, Creatures of an Hour, seems to fall just short on delivering their potential.
Opener and lead single 'Cuckoo', however, is an excellent start and showcases the band perfectly. A delicate organ and light drums lead the way throughout the track, with singer Tessa Murray adding a breathless, wispy and hushed vocal, with only an occasional gliding guitar for company. Combining elements of Young Marble Giants, The xx, The Field Mice and shoegaze, it is a beautiful and breezy opener. Lyrics such as "It's like we're going cuckoo, me and you, stuck in a time machine, that was just a dream" add subtle poignancy and are a delight.
The largely instrumental 'Circulars' continues the momentum, taking a step towards Broadcast and Seefeel, with a rapid-paced organ and Tessa's vocal used more as an instrument, intertwined with shards of broken guitar. It is the one song that completely stands apart from the rest of the album. Perhaps a direction they could have headed more towards to break away from the woozy atmospherics which, while hypnotic, also occasionally dog the album.
That is not the say there aren't other great songs here. Live favourite 'Endless Summer' is particularly heartfelt, with a simply delightful middle eight which would jerk the most hardened people to tears, and still allows for some guitar freaking at the end. 'The White Season' is endearing in its childlike fragility, but it's 'I Wrote in Blood' that is their strongest number. Beginning with Tessa's vocals erring towards Stina Nordenstam or Mazzy Star and a dust-bowl tinged Americana guitar, the song is interrupted by a distorted minor chord organ, drums and a simple, hypnotic keyboard line, mantric in its execution. The song is strengthened further when Tessa adds the repetitive, beautiful line "Let's take a chance, like we used to, we could go back, find something new" which fades the song out.
The main niggle with the album though is the smothering production which doesn't allow much of it to breathe, with the result that several of the songs become indistinguishable and lose identity. Tessa's breathy vocals, while they haunt and captivate much of the album, sometimes feel rather lightweight, and are unable to drag tracks such as 'Submarine' or 'The Twilight Hour' away from forgettability.
Creatures of an Hour is still worthy of repeat listens and is a very good, steady debut from Still Corners, following in the footsteps of kindred spirits Lanterns on the Lake - new, British artists, joyfully bewitching the listener. If you like your guitars shimmering, your drums gently tapping, your keys and organs dominating and your vocals enchanting, Still Corners are the ideal soundtrack for you.