We Were Promised Jetpacks - In the Pit of the Stomach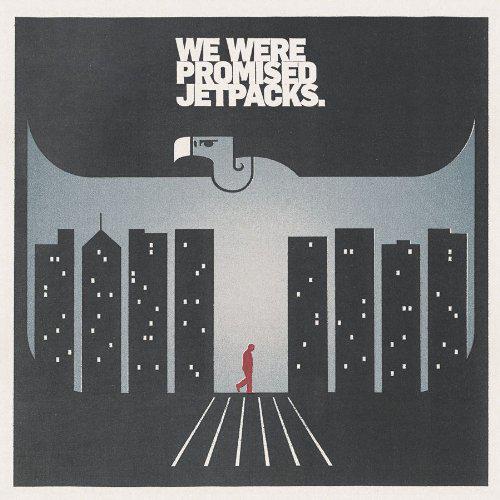 It's been two years since We Were Promised Jetpacks released their debut These Four Walls and having toured it extensively they've finally got round to creating their sophomore album. Two years is a long time in the life of a band and being signed to small indie (FatCat) seems to have given them the creative freedom and time to look at where their next steps should be and where they should take their urgent indie rock roots.
On the basis of the first two tracks, 'Circles and Squares' and 'Medicine', they haven't decided to rip up their tried and tested template and have merely compounded their tribal belligerent drums against a wash of edgy angst guitar fragmented with Adam Thompson's heavy Scottish vocal which leads us through his somewhat brash diatribes.
However, by the time 'Act on Impulse' starts, their new expansive sound comes to the fore with their own take on post-rock, albeit based more around the rhythm section rather than a sea of guitars (albeit the guitars take centre stage towards the latter part of the song with Thompson hauntingly repeating the title track in a disturbing refrain).
'Hard to Remember' demonstrates WWPJ's elongating their repertoire even further as the wanton guitar abuse meets the drums head on in a controlled punch. Thompson even taunts us with his eerie "I've covered my tracks well" ode. It's almost like he's assuming the position of a serial killer and ticking off the appropriate checklist to cover his tracks.
'Sore Thumb' is Mogwai-esque and the track builds eloquently with its layers of chiming guitar and drum snare high in the mix. It's a band demonstrating they want to experiment and move their sound forward rather than rest on their laurels and produce another These Four Walls. The track is roomy, confident, loud and brash and is everything you want from an evolving guitar band.
'Boy in the Backseat' seems to tell the tale of a boy who doesn't get any attention from anyone and is a lonely individual. Whether Thompson is merely indulging in self-parody is another question but it's a rather ambiguous sentiment against a heavy tide of crushing guitar and drums.
'Pear Tree' sees out the end of the album in its own dark way with its driving rhythm section but rather than being a standard track carried over from their debut album, it's a composed six minute-plus denouement warning the listener that this band offers more than standard indie fare. At times In the Pit of the Stomach hits in in exactly that spot with its array of clever hooks. However, it still needs some extra gumption to propel We Were Promised Jetpacks to the next level.