Dan Sartain - Legacy of Hospitality
by Miz DeShannon

Release Date:2011-04-25

Label: One Little Indian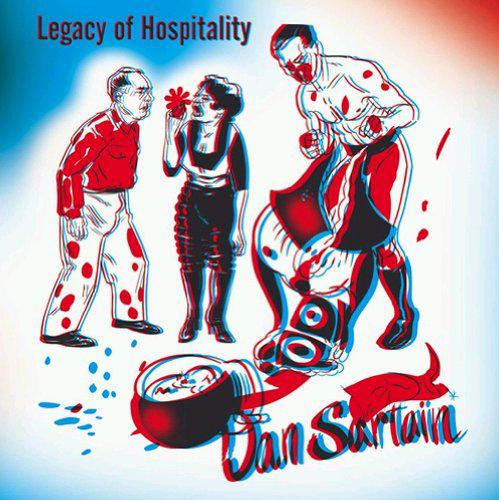 Declared a prolific musician, by those who know of him, Dan Sartain releases a collection of rarities, favourite tracks, un-released material and other musings from the last 10 years, under a apt title for lovers of his music - Legacy of Hospitality. Here are 21 rockabilly and garage blues tracks from the wiry but strangely sexy Sartain, with his moppy quiff and shaky hips like every other sultry rock 'n' roller in town. With a string of releases (six albums), ranging from self-released and produced to fully commercial, this is his second retrospective compilation, the first being Sartain Family Legacy in 2005, made up of tracks from 1981-1998. I'm not entirely sure what happened to his output from '98 to '00, but who cares!
The first three tracks on this compilation ('Atheist Funeral', 'Voodoo', 'Those Thoughts') are from latest album Dan Sartain Lives (2010), and have a typical rockabilly/psychobilly vibe to them, like The Cramps, Sultans, or new bands like The Brute Chorus. Sartain's slightly squeaky voice brings a lighter feel to the third track, just like one of those young lip-curling Del Shannon type boys.
'I Don't Wanna Go To The Party' and 'The Hungry End' are more acoustic, not a lot to write home about, just nice tracks of a similar ilk, although still great. And for some reason, yet another track from the 2010 album is thrown in, 'Doin' Anything I Say', which is again more crunchy and dirty sounding. I could see BRMC citing this one as an influence - there aren't a lot of lyrics in it either. Sartain has changed his style of rock 'n' roll over the years, from a hectic punk feel in his earlier songs to these garage sounds, with traits of hillbilly southern musicians rather than a boogie-woogie swinger.
Finally, at track seven, we're into the rarities and un-released part of the compilation. 'Perverted Justice' has an upbeat surf drum-beat and a very clean sound compared to the 2010 tracks, so I'm guessing this is an early composition. The slightly cringe-worthy re-make of T Rex's 'Telegram Sam' is admittedly only slightly cringe-worthy, filled with the stereoptypical twangy rock 'n' roll guitar, like that of an expensive Gretsch. A dancier, upbeat song, it's not as squeaky vocally as the likes of Gene Vincent in his 'Bee-Bop-A-Lula' moment, but reminded me of The Stray Cats. Or is it a bit Shakin' Stevens? I'm still not sure.
'Ain't So Easy to Fall in Love' lasts a mere one minute 20, very brief, but is pretty and sounds like something from a western, with that dum-de-de-dum-de-de-dum drum beat, again possibly an early musing, whilst 'Day By Day' has an intro that sounds like 'People Are Strange' by The Doors. The mid-album dip in tempo sees 'Much Too Late' a slow ballad, with blues-style lyrics of love and loss and drama, and a female accompaniment, the instrumental 'Love Is Crimson', and 'Baby's Town' with a slight lullaby sound to it; slow, mellow, and unusually poetic lyrics.
Branching into a bit of a Latino multi-instumental thing, 'Besame Mucho' (from 'Join Dan Sartain' 2006) has Spanish vocals from Mariachi Real De San Diego, the real mariachi band used on the album, then the accordion filled 'Mister Moonlight' and harmonica on 'Strength In Numbers' (no, not a re-make of The Music) have a feel of old fashioned recordings again, a more blues driven sound.
'Flight of the Flinch' (released 2007, from 2006 album Join Dan Sartain) is the clean sounding rock 'n' roll of your Jerry Lee Lewis type acts, and 'Crimson Guard' (2001 album of same name) and 'Box Cutter in My Boot' have the grinding guitar and more hectic and shouty vocals, showing a bit more of a crazy punk-blues influence and Sartain's typical psychobilly traits, with not a lot of story telling or poetry behind the songs.
The last tracks on the album, 'I Don't Wanna Go to the Party' (from 2010 album Dan Sartain Lives) and 'The Crimson Cinema of Death', hark back to that upbeat rock 'n' roll style. The latter is an instrumental befitting it's name, has a great guitar riff, exactly what you'd imagine from a 1950s latino film score.
So you're getting the jist of Sartain's writing style then, the recognisable three chord changes, slapbacks, delays, reverb... The whole of this new album sounds like it is from the 50s, with a crackly, 'recorded in the basement' demo kind of sound, typical of recordings from the southern state studios. There are none of the jazz influences of rock 'n' roll, Sartain stays heavy on the blues. He's a less commercial Elvis, with a bit of Johnny Cash, Eddie Cochrane and some Bill Haley or Jason & the Scorchers thrown in, while somehow retaining an air of modernity to his music.
I remember first hearing the amazing twang of a rock 'n' roll guitar, a REAL rock 'n' roll guitar, when I first heard 'Rumble' by Link Wray, and I was hooked. That, and listening to my Mum's old reel-to-reel recordings of musicians I'll never know. There's something really sexy about the sound of a vintage Silvertone and a bit of reverb, and Dan Sartain has sure hit the nail on the head.