Ponytail - Do Whatever You Want All The Time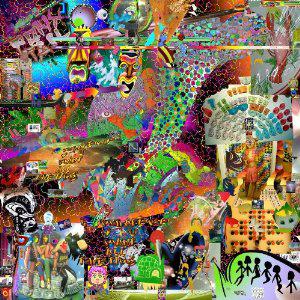 Ponytail is an indie-pop band from Maryland, America, consisting of Molly Siegel (vocals), Ken Seeno (guitar), Jeremy Hyman (drums) and Dustin Wong (guitar). They were named Best Live Band by Baltimore City Paper in September 2007 and Best Band in September 2008 and now they return with the aptly named Do Whatever You Want All the Time.
Ponytail's chaotic and impulsive style gives the impression that they're not worried what the mainstream music media think. They seem to play just for the love of music so their work leaves them more open to criticism. This naked exposure is refreshing. It is liberating to hear a band expressing themselves, freed from the shackles of needing to be referential.
Some bands have to rely on sounding a certain way, because they don't have the bravery or the musical ability to branch out on a limb but Ponytail grow their music like drug-taking, love-making hippies grow their hair long. Having said that, I hope that if I ever get a chance to see Ponytail perform live they don't turn out to be extremely serious 'artistic types'.
None of the tracks are less than four minutes long but they are so vibrant and mostly played at such a high-tempo that they seem to go by as quickly as a magic moment. Do Whatever You Want All the Time begins with 'Easy Peasy' which includes some rhythmically played wind instruments echoing like sea breezes blowing through driftwood. Soon enough we're introduced to arguably the star of the band and the album, Molly Siegel. She is the lead singer of Ponytail and, although reminiscent of Karen O from Yeah Yeah Yeahs, her voice is awesome in its own right. The second track on the album, called 'Flabbermouse' (not sure why it is, although Siegel's voice is quite squeaky). It's a track with everlasting energy, created by Justin Wong's guitar - maybe should be called "Duracellmouse" instead.
'Honey Touches' comes in with a powerful but friendly enough drum beat. Again, Siegel's voice keeps the momentum going and some big guitar riffs remind us of the band's instrumental skill. Nearly half-way through the album and there are no signs of this small but mighty band showing weakness. When 'Beyondersville/Flight of Fancy' plays, I'm left wondering where Sigel went. For the first few minutes of the song, Siegel's voice isn't heard, just a melodically beeping pair of keyboards. While the track is an inoffensive segue, I think I'll have to say it is a flight of fancy and maybe Ponytail should stick to their strengths. However, it displays Ponytails' continuing desire to experiment.
The album continues with 'Tush', which mixes sexy feminine yells and rip-roaring guitar riffs. I'm almost lost for words as I hear a fountain of sounds, including what sounds like keyboards, a wind instrument and drums. 'Music Tunes' is the last track on the album and it leaves us with a crescendo of high-pitched notes on an acoustic guitar which is artificially sped up until you start to think, "Are they having a laugh?" The 'song' settles down soon enough and we're again able to bask in the lovely sound of the boyish but cute Molly Siegel.