Rainbow Arabia - Boys and Diamonds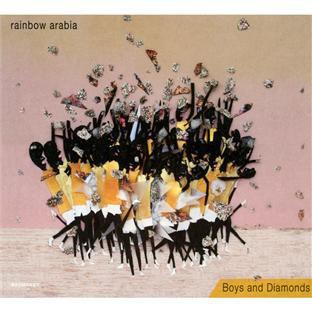 LA's Rainbow Arabia look to the upbeat synth-pop of The Knife's Deep Cuts and the dreamscapes of cosmic disco for their sound, producing processed, high-gloss tunes with just enough kooky touches to keep it on the 'alt' side of pop. There's some really accomplished stuff on this, their debut album, but nothing which competes with the 80s-tinged euphoria of The Knife's 'Heartbeats' or Glass Candy's latter day work of cosmic disco greatness, 'Rolling Down the Hills'.
To be fair to Rainbow Arabia (and ignoring their bloody terrible name), it's a shame that this album has emerged three years after their music was first brought to wider attention by the UK independent label Merok, when everyone else has already had their fun with this sound. In fact, it already infiltrated the mainstream back in 2007 thanks to Robyn's excellent 'With Every Heartbeat' and Knife-produced 'Who's That Girl', which makes Rainbow Arabia look like late-comers to the party.
In truth, it's not as if husband and wife duo Danny and Tiffany Preston do anything particularly new with the formula , but there are some absorbing moments here, chief among them closing track 'Sequenced', which takes the juddering rhythm of Donna Summer's 'I Feel Love', adds some thudding percussion and shoots the whole thing to the moon on the back of Tiffany's wild woman wail. Expect to hear it airing at any club night that's so cool you spend the whole time expecting the be chucked out for not having the right haircut.
However, elsewhere it's Tiffany's vocals which are the problem. The woman is basically doing a very good Karin Andersson (The Knife/Fever Ray) impression and it's a little insulting that she doesn't seem to think anyone will notice. Couple this with a lack of musical variation (tumbling African percussion repeatedly makes an appearance, just as does on Deep Cuts, and, in fact, Robyn's 'Who's That Girl') and, across 11 tracks, the record starts to drag, so much so that it's easy to miss good songs such as single 'Without You'. The duo only really break the mould on 'Nothin' Gonna Be Undone', a cod-reggae/dancehall tune which takes its lead from MIA. Unfortunately, it proves to be the album's irritating low point.
So we're left with an album which, despite a few high points, sounds mostly uninspired and - worse, for music this electronically-based - dated. If you've spent the last few years listening to The Knife, MIA and Robyn and not much else, this might still sound like the future to you. Otherwise, it's kind like opening a time capsule from 2007.