!!! - Strange Weather, Isn't It?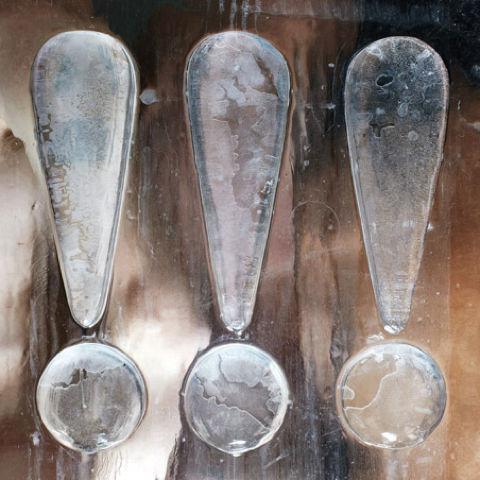 Big changes have occurred for !!! since last album, 2007's Myth Takes. Members Justin Van Der Volgen, Tyler Pope and John Pugh left to form Free Blood. Perhaps agreeing it was time for a new perspective, the remaining band, having mined their voguish punk-funk sound for around a decade, decided to decamp to Berlin for the recording of this album, in a time-honoured attempt to connect with the decadent and bohemian energy of that city.
Has it worked? Well, the clatter and buzz of opening track 'AM/FM' makes you think of Can, Neu!, Silver Apples and Chic all at once so, yeah, things are looking pretty good. Known for their balls-out party tracks, this is a slightly more restrained !!!, and it suits them well. You can still dance your arse off to most of the tracks on Strange Weather, Isn't It?, but many of them have a slightly sleeker, darker edge. Second track 'The Most Certain Sure' is a Hi-NRG disco anthem as reworked by Grace Jones and James Murphy (the latter actually helms production duties here), its MDMA high burnt out to be replaced by icy, knowing cool. The Nile Rogers-style itchy guitar on 'Jamie, My Intentions Are Base' is another highlight, and again, what hits home is the restraint the band keep throughout. The grooves are mighty but locked down, twitching to get free but never achieving relief.
Strange Weather, Isn't It? also sees the band grabbing some of the action other NY bands have enjoyed in their absence. 'Steady as the Sidewalk Cracks' begins with some beautiful hi-life guitar before expanding into an uplifting disco tune which sounds like something Scissor Sisters might come up with if they were possessed of vision and soul.
Some stuff doesn't work as well. 'Wannagain Wannagain' is just another punk-funk jam. It's not bad for that, in fact as punk-funk jams go it's pretty ace, but it's only saved from Red Hot Chilli Peppers territory by the injection of some effervescent brass. Meanwhile, the aptly named 'Hollow' probably sums up the albums one big problem. For such a unabashedly funky band, there's not much emotional substance here. Both this and the following 'Jump Back' are efficient but somehow lacking. There's an audible lack of sweat on these tracks.
Thankfully, closing track 'The Hammer' is the album's greatest moment, it's squelchy synth bass and compressed, wild percussion zooming off into a different sphere from the album's more pedestrian tracks. It's a great energising track, but it does make you wonder if !!! actually do have anything in them beyond this? Perhaps not. But, if this sort of space-funk-meets-mutant-disco-punk is something they can keep pulling off then more power to them.