Autolux - Transit Transit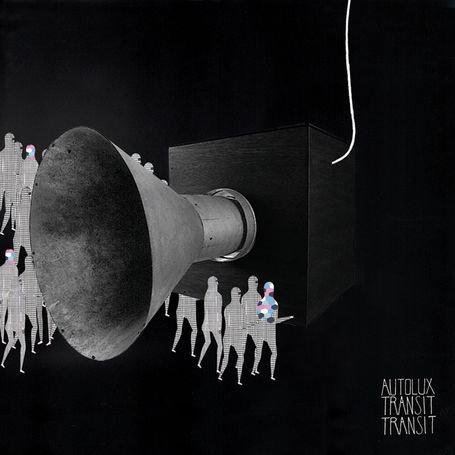 After nearly six years in the wilderness since their debut Future Perfect, Los Angeles trio Autolux are back with Transit Transit, on ATP Recordings. Their debut was a grinding and driving but rather erratic album, dominated by lead single 'Turnstile Blues', which showed an element of promise but was not ably supported by the rest of the record. Transit Transit sadly continues the theme of inconsistency.
Opener 'Transit Transit' is a worthy departure, a joyous and fairly minimalist piece of electronica. The track pursues a childlike drum and bass tone, punctuated by blasts of trumpet, but also allows for space in the melody, coming across as Björk versus Mercury Rev, as remixed by Daniel Johnston.
From this point, however, the album, as per with their debut, leans heavily towards the 90s for its inspiration. 'Census' and 'Supertoys' both ape Sonic Youth on Mogadon. The former is slow, bass-heavy and rather unimaginative, sounding tired and wilting. 'Supertoys' perks up though with the introduction of drummer Carla Azar's vocal, which attempts to drag the song out of the abyss, but it ultimately fails. 'Spots' replaces guitar with piano, but it still a painful slog. The electronic backing echoes oddly like Nine Inch Nails' 'Closer' and the melody is interesting, but again it is let down by a dreary vocal. The line "another catatonic birthday" could not have summed up the song better. The vocals on 'Audience No 2' points towards the whine of Billy Corgan, or Elliot Smith at his most darkest, but it is flat and unmemorable, the fate also shared by 'Kissproof', 'Highchair' and much of the record.
Thankfully though, there are a couple of great songs. 'The Bouncing Wall' is a slow and driving number, with a fuzzy bass and added glockenspiel. It benefits from a strong female lead vocal, taking its cue from the optimism of latter day Stereolab or School of Seven Bells, which is shared on closing track 'The Science of Imaginary Solutions'. The highlight though is 'Headless Sky', dominated by a heavy riff that is constant throughout. Guitar, drums and glockenspiel are slowly added over this and lead singer Eugene Gorescher's vocals are far more cheerier than on other tracks. It is a great song, the only one that could threaten a nodding response from the listener and probably the best track they've ever done.
It's great that Autolux have added new styles and variety to Transit Transit, that was lacking on their debut, but ultimately they continue to rely on drone and dreariness as the default option, rather than playing to their strengths. Bar a couple of notable exceptions, Transit Transit is on the whole disengaging and unremarkable.