Tender Trap - Dansette Dansette
by James Bray

Release Date:2010-07-12

Label: Fortuna Pop!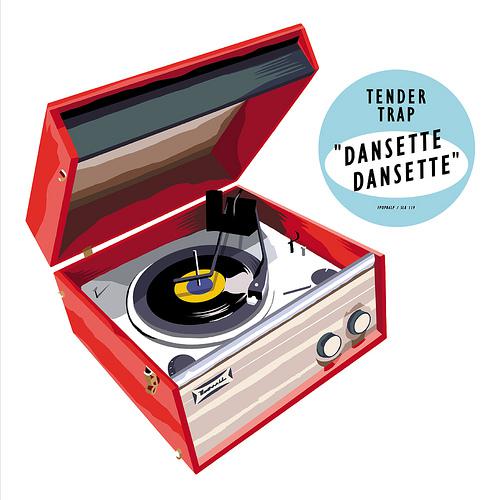 Tender Trap's singer/songwriter Amelia Fletcher is somewhat of power pop veteran having been in such bubblegum indie groups as Talulah Gosh, Heavenly and Marine Research. Her experience, over a long musical career that began in the early 80s, is immediately evident on Tender Trap's second album Dansette Dansette; it seems that over the years she has developed a template for writing lo-fi pop songs. On this album, the sweet and simple melodies and doo-wop backing-vocals are emphasised whilst being backed up by fairly non-descript indie guitar music. The song's are immediately accessible, but that's because their cookie cutter patterns are instantly recognisable. Highlights include 'Fireworks' and 'Suddenly' and they'll soon have you singing along, but repeated listens to the songs often reveals a lack of depth.
Fletcher delivers her breathy vocals with a knowing grin. The wry, lilting delivery evokes Belle & Sebastian and her appropriation of 60s pop melodies charms in a similar way to the folksy Scottish group. On the catchy 'Do You Want a Boyfriend' she blithely namechecks The Jesus and Mary Chain; while the aforementioned group created a thrilling mix of visceral guitar music and classic girl-group melodies the Tender Trap only manage to make a pleasant collage of breezy pop and 90s British guitar music.
Fletcher is actually moonlighting as a member of Tender Trap, she also works as economist and actually has a doctorate from the Universityof Oxford. Dansette Dansette can feel like it's been made a group of Oxbridge graduates who are letting their hair down by breaking into the indie dressing up box, wryly glancing at the world through their candy-coloured knock-off ray-bans. You could call them dilettantes, but they do manage to create a very competent and coherent album. It does have some nice pop hooks and Fletcher's studied, teenage indie lyrics work well in the musical context. The problem is that, though the songs are pretty, they're just not compelling. The group fail to graduate from emulation and homage to find an identity of their own; this problem is to be expected in a band that has had so many different incarnations and personnel changes over the years. The album is not without it's charms and the first half bops along nicely. However, after a while, the whole playful irony thing feels rather flat and uninventive.
Fletcher is obviously enjoying herself, making her music with her friends (her partner Rob Pursey is also a member of the band). This leads to the album feeling rather cosy and comfortable in a 'where's the conflict?' kind of way. Overall the music is okay, but it remains uninspired, leaving an overall feeling that you've just listened to a very professional cabaret act; maybe that's what this band have become at this stage of their career. Not bad, nice even but Tender Trap's twee-pop credentials don't stop their music from being sweet but incidental and disposable, like a candy-necklace.